Our mate Thomas hails from Canterbury in New Zealand, and he loves loves loves taking photos of trucks!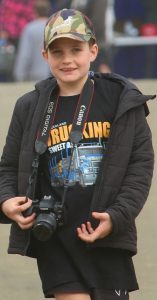 I absolutely love trucks, and I love taking photos of them just as much!
I am 10 years old and I live in Canterbury, which is in the South Island of New Zealand.
I've been taking photos of some pretty cool rigs since I was around 5 years old, when my dad gave me my very first camera.
One of my favourite things to do in the school holidays and at the weekends when I'm not playing sport is to go with my dad on callouts in his tyre truck in and around Christchurch.
It's so exciting when I see a big rig coming in the distance! I can usually tell what company, make and model it is and if I haven't already got it, Dad will try and pull over if it's safe to do so, so I can get a photo.
We go to some awesome places and truck yards and capture some cool trucking action!
My favourite truck make is a Kenworth, and I Iike the T909 and C509 models the most.
Here are some of my favourite pictures to share with you, I hope you like them as much as I do.
Keep on trucking! Over and out – Thomas.