It's big, it's fancy, and it carries a special message.
For this issue we are in Australia for the Top Truck, in a town called Julia Creek situated between Cloncurry and Hugenden in outback Queensland. (Why not see if you can find Julia Creek on a map? Then you know exactly where this big truck comes from).
Julia Creek is home to Tim and Sheree Pratt Cattle Transport, a two-truck livestock hauling business owned by husband and wife team Tim and Sheree Pratt, with loads of extra enthu- siasm and support coming from their three children, Abbie, Sam, and Bronté. It's a family affair!
You can tell the family has a great sense of humour because our poster truck, one of two Kenworth C509 model trucks they own, is called 'Nothing Fancy'! That will be the day.
The big blue and white Kenworth runs a Cummins X15 motor producing 448kW (600hp), with an 18-speed manual Eaton Roadranger transmission behind it.
It needs all that power and all those gears, because hooked behind are three huge Haulmark cattle trailers.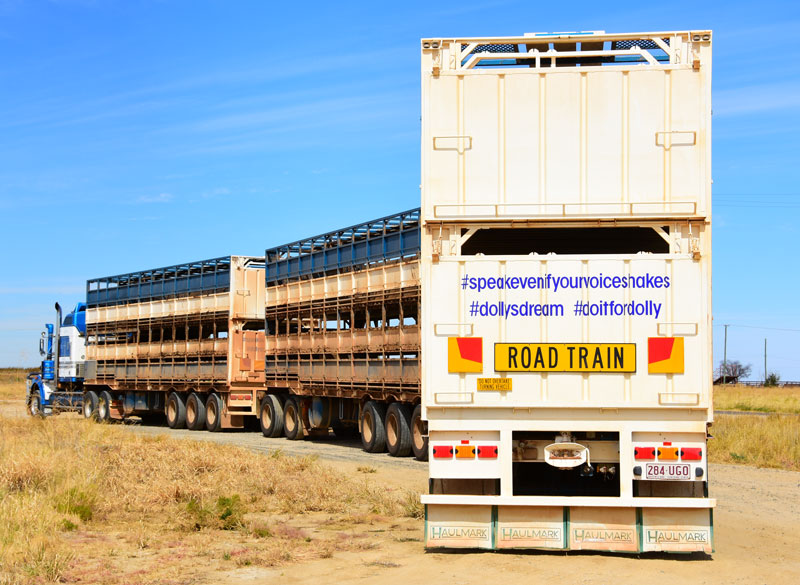 The truck carts cattle all over outback Queensland and into the Northern Territory. To keep the 62 tyres – plus spares – rolling through the vast country, the Kenworth carries 2000 litres of fuel on the truck, plus an 800-litre tank of fuel on each trailer. This fuel can be pumped into the truck's fuel tanks when it's getting a little low. It also holds 300-litre of Diesel Emission Fuel (DEF), a liquid used to help the big diesel engine run nice and clean.
To make sure Tim gets the rest he needs out on the long runs, there's a 60-inch sleep- er on the truck, fitted with an ICEPACK air conditioner. You can see this machine in the pictures, it's the small square box behind the sleeper on the left-hand side. Its job is to keep the sleeper cool without the need to run the truck's big Cummins engine. Handy!
On the back of the last trailer you can see the hashtags #speakevenifyour- voiceshakes, #dollysdream, and #doitfordolly. They are there because the Pratt family are supporters of Dolly's Dream, a programme created by Kate and Tick Everett whose daughter Dolly took her own life as a result of bullying. The Everetts and supporting families like the Pratts, work to prevent bullying in all its forms, and encourage young people being bullied to speak-up.
What great people, what a great machine.