Hey, Little Truckers! For this trip with Dad, I was able to learn all about how advances in technology are making a difference in the transport and agricultural industries.
I hope your Christmas and New Year went well and you are enjoying your school holidays. The holidays for me mean plenty of time to head out with Dad. I got to do just that as I went and visited a very cool dairy farm in Golden Bay.
We left home in the Scania with a load of dairy meal pallets (breakfast cereal for cows), which Dad had bought up from Ashburton the day prior and travelled 'over-the-hill' to Upper Takaka.
A farm there was the day's first delivery; Dad backed the trailer up to the famer's auger, (a long steel tube with a spiral inside it, which is turned either by an electric motor or by a tractor) and once the tractor was started up, the meal began to flow out the small door at the rear of the trailer.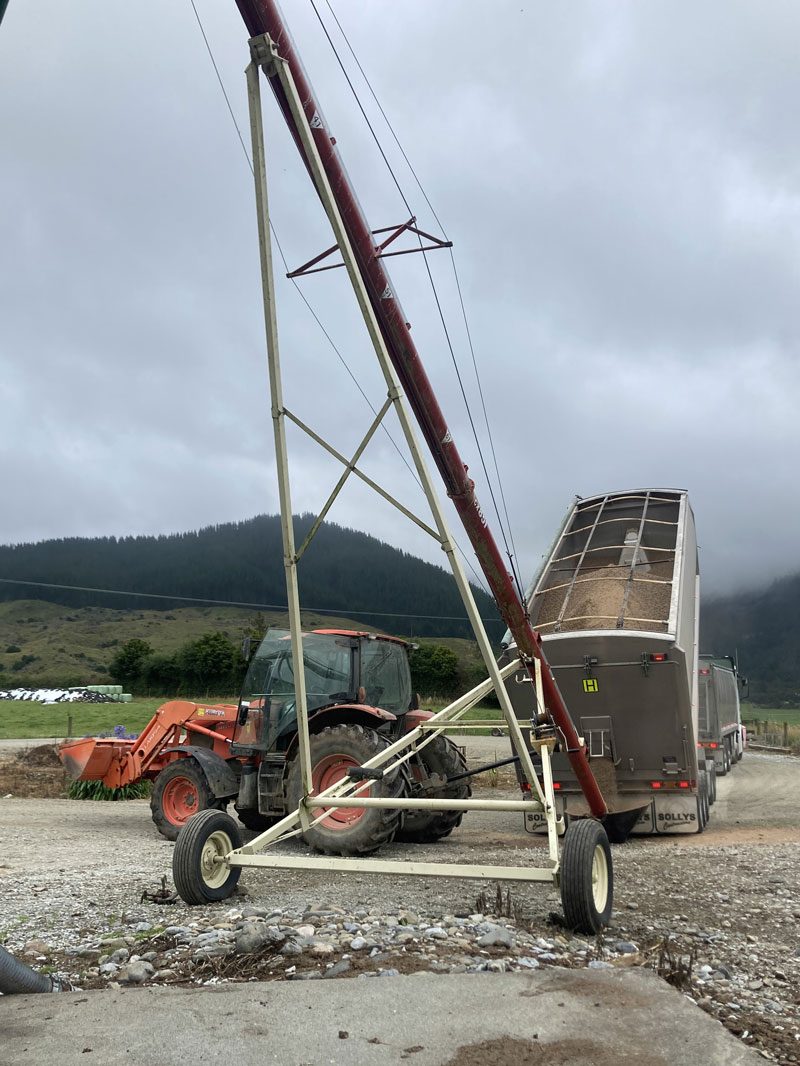 I operated the trailer tipping controls each time the bin needed lifting, and when the bin was right up in the air and the meal stopped flowing, Dad climbed into the bin and coaxed the last of the stock food out with a shovel.
Once the trailer was empty, we left Upper Takaka and travelled about 10 minutes towards the Takaka township, until we reached Uruwhenua Farms, operated by the Sowman family.
Dad unhooked the trailer and backed the truck up to the Sowman's auger, while he was augering the load, I looked at some cows in a nearby paddock that had interesting collars around their necks.
Corrigan Sowman came over to see how we were getting on and I asked him about the collars the cows were wearing.
He explained to me that every cow wears an electronic collar that is basically like a Fitbit (or smart watch) for cows. It measures their activities, what goes on inside their stomachs, how often they ruminate (how cows digest food – did you know that cows have four stomachs?), any animal health issues that may be happening for them, and what percentage of the day the cow eats and rests. These are all very important details for a dairy farm owner to know: with this system Corrigan is able to see if there is potential illness or irregularities within his herd, he can then deal with it immediately.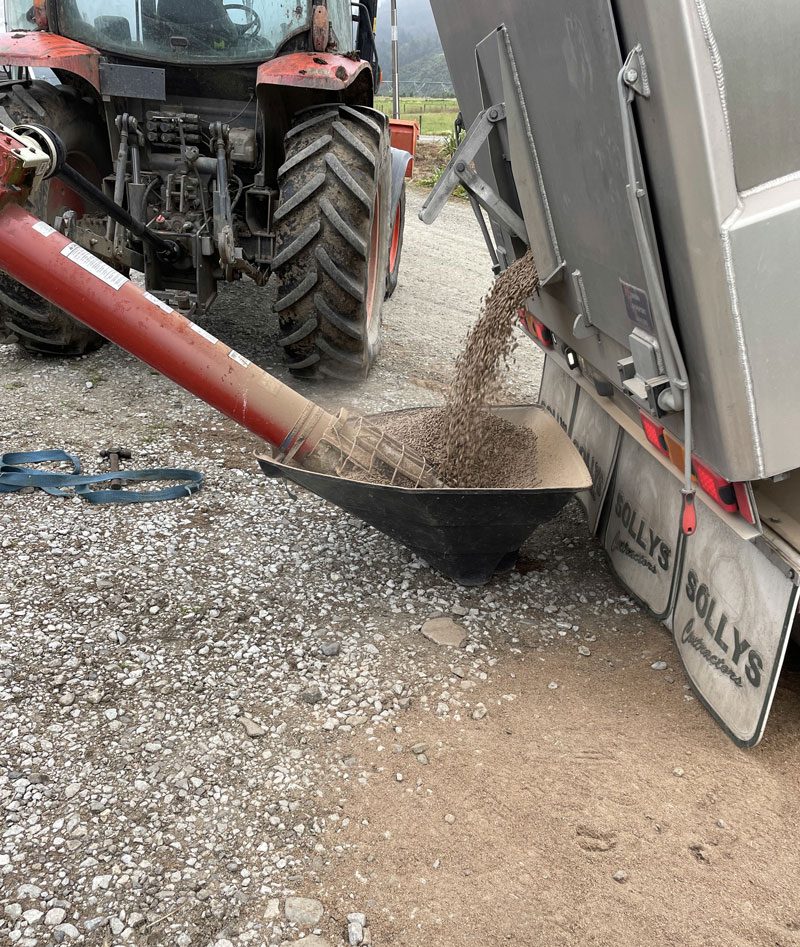 Prioritising the health of their animals and trying to produce a consistent quality of milk is very important to dairy farmers .
The information the collars supply is transmitted wirelessly to the milking shed and it can be viewed either on a computer or smartphone.
Through this technology, if a cow had nutritional issues, the automatic feeders would know what to feed her, how much to feed her and ensure this food only went to her.
Corrigan then led us into his office to show us how he keeps informed of the progress on his farm and how he allocates jobs. He uses an online programme where important information, notes and instructions are imputed.
Corrigan then showed me how to draw a map of a fence where he wanted it set up then it was sent off as a job to one of his employees, through the smartphone app.
The use of innovative technology has revolutionised Corrigan's farm and also shows just how quickly the world of agriculture is advancing due to new technology and just how helpful it is.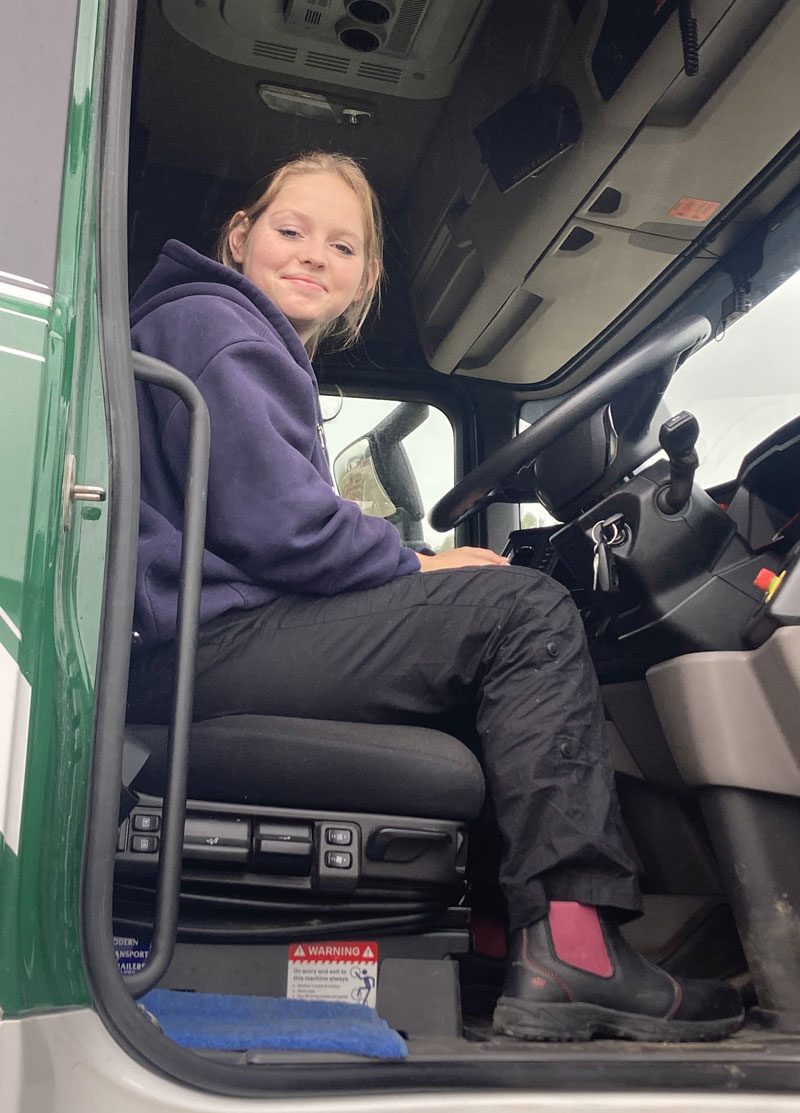 On the way back to Motueka, Dad and I discussed the way technology has made Corrigan's farming so efficient and allowed him to be able to care for and monitor his cows in the best possible way. This led us to talk about how technology has advanced effectively also for trucks. For example, his Scania truck uses adaptive cruise control, where the truck's onboard system not only keeps the truck going at a set speed, but monitors any vehicle ahead, and automatically slows the truck down if the vehicle brakes for any reason, making any travel safer for both the truck driver and other road users.
Dad has a tablet for work. It has the loads he is doing on it and as they are picked up and delivered the tablet is updated, in turn sending the completed details straight back to the transport office's computer.
Technology is enhancing all industries, including transport and farming. For people like Corrigan and Dad, they appreciate the difference these technologies make to their jobs and they can't wait to see what comes next.