Dustin was lucky enough to spend the day out in a truck with his mate Roger from GVT Landline, transporting fertiliser to a couple of farms.
Hi my name is Dustin Wright. I'm 12 years old and I live in Hawarden, North Canterbury.
I recently went out on a truck trip with GVT Landline, a transport operator. That spring morning, I woke up and had my breakfast – I needed to be at the end of the drive early for the day ahead.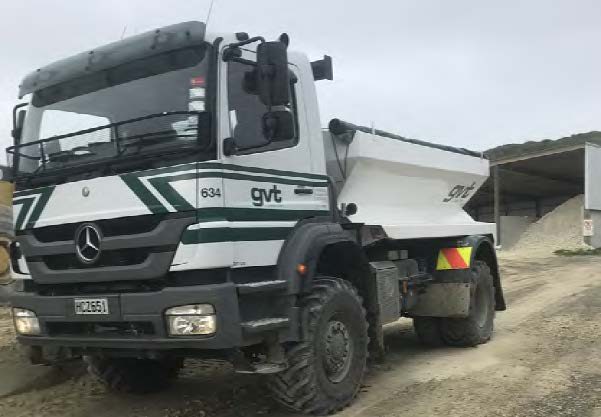 I was picked up by Roger Marsh from GVT Landline at 7:30am, and we were going to spread some fertiliser. Roger drives a 320hp Mercedes-Benz 4×4 fert spreader.
We went down to the quarry to pick up the fertiliser. Roger got in the loader and warmed it up and then loaded up the truck as his trailer was getting fixed. After loading the truck we went to a dairy farm and put the fertiliser on the land.
After finishing at the dairy farm, we went to our next location – this time it was a sheep and beef farm. We went up quite a steep hill – even Roger didn't like it too much! At the quarry, the loader took one and a half bucket loads to load the truck.
I really enjoyed my day, with lots of laughs along the way.