Our on-the-ground reporter in Australia Mike Williams shows us what trucker life is like in the hot, unforgiving climate of Western Australia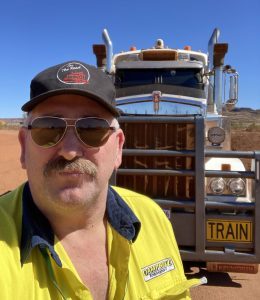 Name: Mike Williams
From: Sydney, New South Wales
A bit about me: I'm a full-time truck driver, part-time podcaster and writer and a frustrated chef! My favourite drink is coffee and my favourite food is lemon tart.
Favourite truck: Got to be the Kenworth T909
If you want to drive the biggest trucks on public roads in the world, you head to Western Australia.
I was lucky enough to get to drive the biggest of them. I had to show I could do it first though – you need lots of experience and training before you get the keys to a truck that's worth over AU$1.5 million dollars!
Anyone with the ambition to work in the trucking sector in Western Australia can work their way through the ranks and get to sit in the driver's seat.
There are a lot more jobs than just drivers though. Without the heavy vehicle mechanics, auto-electricians and all the other support staff, we wouldn't be able to move even a tonne of dirt! Where do you want to work in the transport team?