SPONSOR PACKAGE
Little Trucker Down Under is the first truck magazine aimed at promoting the transport industry to children.
Today it's not easy to get kids in trucks with heroes and mentors, so we have to think of new ways to help ignite a love of trucks and road transport and develop that passion through to adulthood.
Little Trucker Down Under is part of an early life strategy to help spark an interest in our industry. It compliments New Zealand Trucking Media's other print and digital vehicles with a non-device, interactive, participatory, medium. The stories, photos, puzzles, and drawing / colouring competitions not only entertain but assist cognitive learning process.
The benefits of brand embedding in formative years is well known in the automotive industry. We believe there is a great opportunity here for OEM and transport companies alike to become Little Trucker sponsors, and embed their brand into the hearts and minds of the target audience at the most influential time of their life.
Facebook announcement
In a Facebook announcement about the pending magazine we received 113 comments ALL supportive and 749 likes. Little Trucker Down Under Facebook page launched on September 2nd and already has 570 followers and numerous messages asking when the magazine will be available. Below are some of the comments.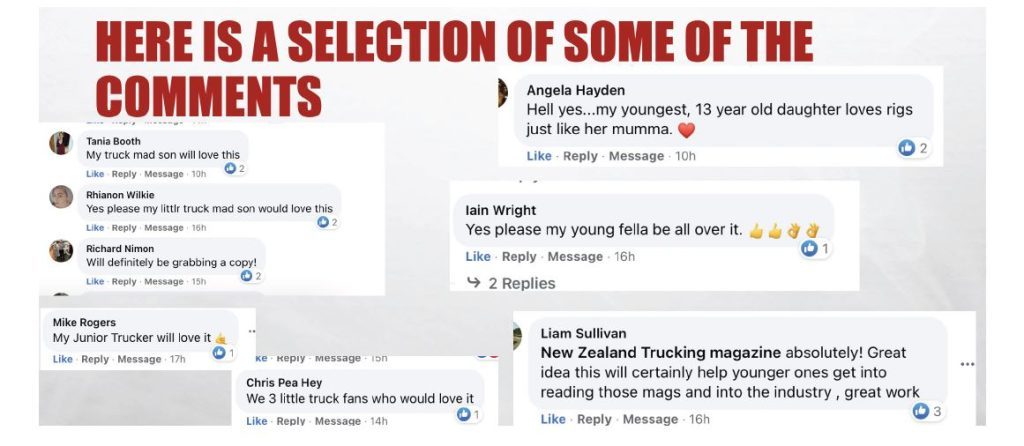 HELP US FIND THE NEXT GENERATION OF TRUCKERS
On sale dates: December, March, June, Sept
It is on sale through major retailers including bookstores and supermarkets, magshop, isubscribe and subscription. Flybuys has confirmed they will be making it available to all their members.
Call Matt@nztrucking.co.nz to find out more about the package
Advertising Manager | +64 21 510 701