1985 V8 Mack Cruiseliner
Graeme purchased the Mack Cruiseliner in 2006. Although It was looking pretty rough after spending the previous years outside and not in a shed, it was still drivable and Graeme drove it home from Auckland, parked it in his shed where it stayed until 2009.
Graeme tells me this particular Mack Truck is very rare. Another interesting fact is that the purchase price in 1985 was $226,325, back then you could possibly buy 10 houses for the same price!
Before owning this Mack, Graeme owned another years ago and had originally wanted to buy it back, but it was unavailable.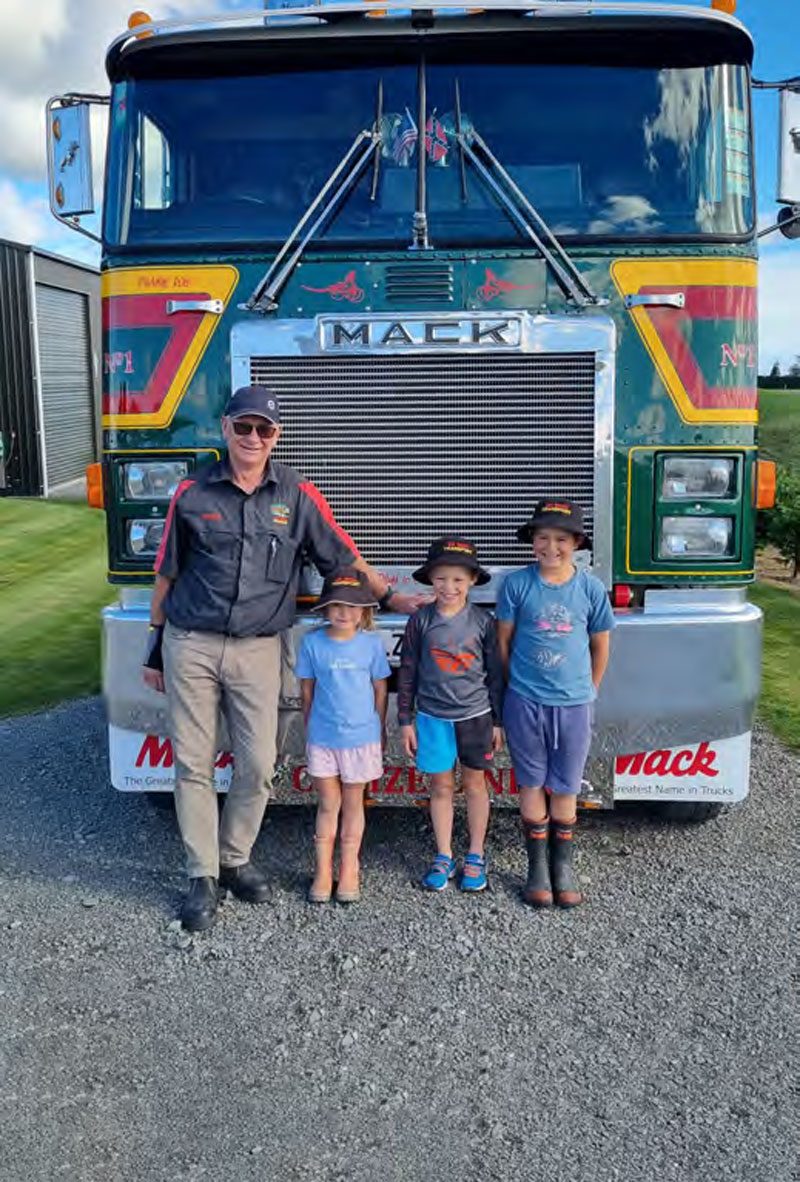 When this one came up for sale, Graeme bought it.
In 2009, Graeme decided it was time to start working on restoring the truck. After sitting for so long untouched, it was not driveable. Luckily, Graeme owns a fleet of trucks (GK Skou Transport Limited) and was able to transport the Mack himself. It was taken to Jackson Enterprises in Paihiatua and dismantling began.
For about a year, most weekends were spent working on the Cruiseliner. Graeme was able to do a lot of the work himself, but he did have some help from James Rook with some of the larger jobs.
Many, many long hours were spent sanding, cleaning and polishing what seemed like endless parts. He managed to keep most of the original parts, with exception of the front seats that were too far gone to be repaired. New seats were sourced from a Hino and Graeme re-covered them in a material of his choice. The headlights are Holden Gemini, but rumour has it the original ones are too. The brakes were done at Rangitikei Truck and Diesel. The chassis was sandblasted and painted red by Total Truck Spray in Palmerston north. The mudflaps are all stainless steel, not chrome. Graeme says this is because they don't rust and stay shiny longer! The wheels and the chromed grill are all original. The cab was stripped back to metal before getting repainted – the first time in five different paint jobs – and the thickness of the paint they took off reflects this.
The colour scheme is very similar to the original colour of the truck when it was new at Total Transport. This is a coincidence as the colour scheme Graeme chose is that of his existing fleet at GK Transport, which consists of 12 trucks – 8 livestock and 4 tippers. The engine, a E9 V8 440 (uprated to 500 hp) Mack motor, was painted blue. Graeme chose blue because he is sure that is the original colour. Running alongside that is a 12-speed Mack gearbox. Both are the original parts from new.
The gold Bulldog emblem in the steering wheel was custom made and put in two of Total Transport's Macks when they were built. Pretty cool!
Graeme and his wife Raelene took the Mack for its first run as part of the North Island Northern Classic Commercials. It is a rare occasion that it gets taken out for a drive. They have now been on five runs including both the North and South Islands.
Graeme took the Cruiseliner to the Tui Truck Show and Shine at Mangatinoka in 2011 where it won "Mack of the Show" – this is the one and only show he has attended with this truck.