Hey kids, wanna drive your own rig? Check this out!
Have you guys seen this cool mini rig on social media yet? Owned by Heikell Transport in Whakatane, the mini ride-on Scania is made by a company in Ireland called Scaled Rigs, and Heikell's added it to its 'fleet' in 2020.
Then, early this year, stock- crates builder Nationwide Stock Crates from Mount Maunganui (which builds all the crates for Heikell's fleet of stock trucks) handed over the custom tri-axle semi-trailer, completing the rig. Nationwide made sure the trailer is all kid-friendly, ensuring there are no sharp edges or surfaces that could cause harm – just like it does for the real crates that cart animals.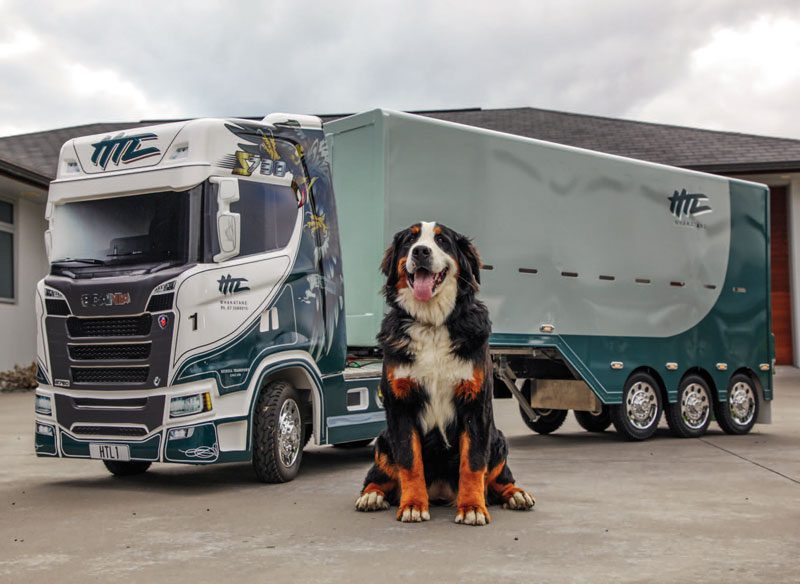 Both the truck tractor and trailer are done in full Heikell Transport livery. The awesome graphics on the side of the mini-Scania are a replica of that on fleet No.16, a Scania S650 8×4 known as 'Legend II'.
There's even working lights behind the cab and on the trailer – just like the real thing! It has real pneumatic tyres (meaning they're filled with air), is battery powered and has forward and reverse gears. It'll do a top speed of 6kph, more than enough to have some good fun. And, when you put your foot down, the truck makes a realistic sounding engine noise.
Now that's a cool toy!