Reid heads out in a Scania with our friends at Owens Transport, carting grain to Auckland to make beer!
Hi there Little Truckers, my name is Reid and recently I had my second adventure in a big rig truck.
This time I was in a V8 R620 Scania with Shaun and Ben from Owens Transport.
As Shaun pulled up, I felt amazed and shocked at the same time because of how big the Scania was and that it was a curtain sider. Today's job is to cart grain to an Auckland brewery to make Heineken beer.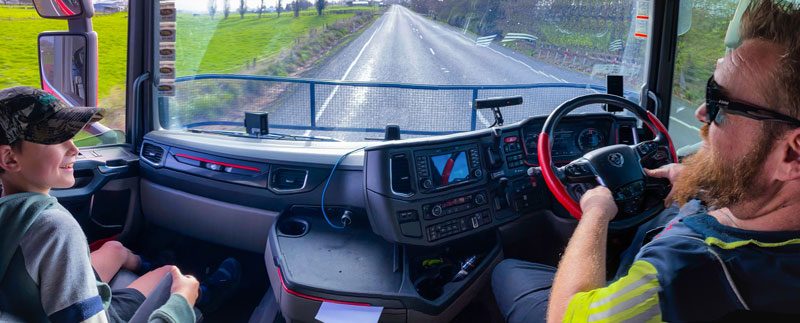 Shaun drove into the Tatuanui weighbridge to pick me up. The Scania is a truck and trailer that holds a big bag inside filled with grain. It was weird because there is not normally a big bag inside a curtain sider. Big tanks store all the grain before loading the trucks. It gets loaded up the top. There's a remote that tips the deck up and down when the truck is unloading the grain. When the truck's deck tips, the grain goes out the little doors at the back.
I am really grateful to Shaun and Ben who took time out of their day to take me for a ride and for answering my questions! What an epic day riding in the big gear!